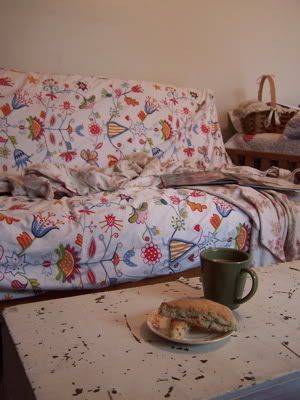 The 80 degree weather caused me to turn off my heater, and by 11:00 this morning, my house was ice cold. It is rainy, and dreary, and oh so teeth chattering cold. Sure, a few weeks ago, when it was 30, I would have been running around outside trying to find a swimming pool at fifty degrees, but after a few days of REAL Spring, it feels like an ice box. To counteract the freezing house I turned on the oven...and the coffee maker. We curled up on the couch with a pile of books and several blankets. Cozy. I made some scones that were out of this world delicious. Pecans and Cranberries. YUMMY. Want the recipe? Then ask me for it. And while you are at it, tell me how beautiful I am, and how much you love reading my blog, and how adorbaly sweet my munchkins are.
Oh, and I am serious. You can't have the recipe until I have been coddled and brown-nosed to my hearts content. (and those scones were really yummy)
I'll give you my secret coffee recipe for free. Oh, and it's not so secret anyhow, but it makes for a cheap Starbucks substitute. Take one cup of coffee (STRONG) and add a packet of your favorite Hot Chocolate mix. Stir. Add some milk or cream. It's gourmet cofee for the white trash crowd- and to make it more authentically white trash, do as I do...use individual coffee bags (like tea bags) instead of brewing your own.