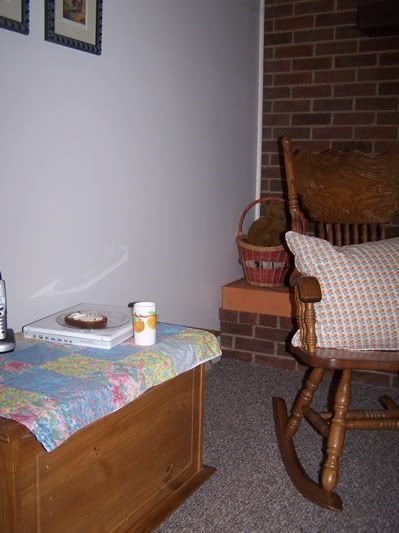 Do you remember my promise to create a sacred corner? Probably not...it was so long ago. Anyway, here it is and I filled it with my favorite things for a favorite Friday.
First there is the small baby quilt my sister mad Marcus. None of my children are small enough for it anymore, and so I use it to cover the beautiful hope chest my mother and father made me one Christmas. The inside is filled with cozy blankets and crocheted afghans.
See my laptop there? It is all ready for me to sit down and polish off my nano novel. The phone is just waiting for a ring from my sister.
Hanging on the wall is a set of prints from
Charles L. Peterson
. Make sure to click the thumbnails. His work is beautiful and I wish I could afford a large print instead of the notecards that I matted and framed.
Look at the cutie tootie orange tumbler. Dustan bought a set of them for me last night at the antique mall. I fell in love with them right away and at 5.00, they were the perfect price. They will make such a cheery addition to my mornings.
My corner is peaceful and relaxing, and to be honest, it is exactly what I need today.
Yesterday I recieved the news that my Uncle David had passed away. It was sudden and unexpected. I did not spend a great deal of time with David, especially in my adult years. I loved him because he was so loved by my mother. I hurt for his death because his standing with God is unknown and because of the pain my mother is enduring. As a child, it is always something akin to torture to see a parent hurting and I am still a child. The world does not seem to be on its axis when mom is hurting so badly. I know that many of my readers pray. Please pray for my family this week, they would all love to be held in your intercessions.
And a story about David, from my childhood:
For some reason, I had been left in David's care. He was babysitting me, and in true Rebecka fashion, I quickly made a pest of myself. David was good natured, and even a bit jolly. I can still hear that Wheelis laugh... Anyhow, he quickly tired of me, and on top of that- his girlfriend came by for a visit. What to do with Becky Sue? Hmmmm.... Maybe put her on the roof? I guess that seemed a good idea to him at the time, and a ladder was always hanging around in the yard at granny's so he had easy access to an easy way out of babysitting. I sat on the roof while he smoked cigarettes with his girlfriend. You would think this is a horrible thing....but it was not for me. Being on the roof was a grand adventure and I loved every second of it. It was the first and last time I was to have the same adventure. I sat like a Queen, ruling everything i could see, which was..everything. It was an amazing view of the world.
Thanks Uncle David. And we will miss you.