Done by Marcus, age 7 on a chalkboard.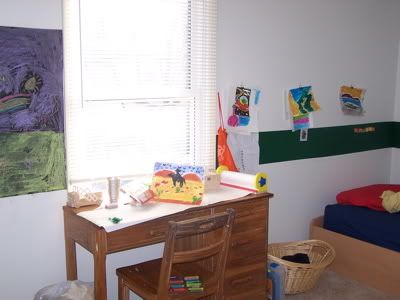 When I redid Marcus' room, I wanted to make sure to make him a place to be creative. The desk belonged to my dad as a child and has gone through several adventures, but I think an art and craft desk has been its favorite one. You can see how passionate Marcus is about his work...it covers his walls. The watercolor colage on his desk is my favorite. That is a cowboy there...riding into the sunset. Wanna buy it? You can't. I would outbid whatever price you would be willing to pay for it. I am hoping that Marcus gives it to me for Christmas.
As an afterthought: I really really need to get some curtains made for his windows.