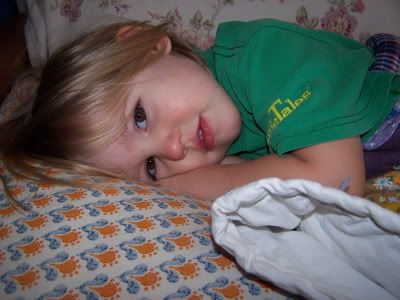 She is so sick, but still so pretty. Esther ruined our Thanksgiving plans. We had really been looking forward to a trip to Ohio to visit my grandparents, but as usual, the oncoming winter season has showed itself by bringing us some good old fashioned illness. Esther is nasty sick and so, instead of traveling with a pukey mucousy child, we stayed at home.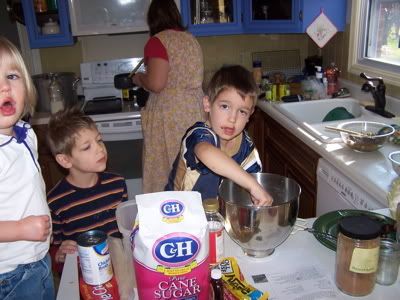 And we cooked. Boy did we ever cook. Started at 7 in the morning and finished in time for a Thanksgiving meal at 5 in the evening. I let each kid choose a menu item or two and they helped to make everything. It was a blast. A messy blast- but we had such a good time.
Here's the menu:
Turkey (of course)
Pumpkin Stuffing (Dustan's choice, stuffing made from pumpkin bread and mushrooms- most delicious stuffing I have ever had. The kids loved it too, despite the fact that they hate mushrooms)
Green Bean Casserole with Portabella Mushrooms (Oh, my! This was fantastic- it will become a family tradition.)
Green bean casserole without mushrooms- because the kids hate mushrooms (silly kids) they hated the green bean casserole anyway (silly kids).
Sunday Rolls (I have to find a better roll recipe- this one was not so great)
Mashed potatoes (boring but yummy)
Sweet Potato Casserole (chosen and made by Marcus)
Cranberries (and yes, I DID forget about them until the very last minute- family tradition!)
Desert Menu! We went a little crazy:
Pumpkin Pie
Chocolate Pecan PIe (out of this world and made by Dustan)
Rum cake (also made by Dustan)
Eclair cake (made by Weston and Esther)
It was a feast meant for the Kings...and we enjoyed every bite of it!
Here it all is in the oven. I can't believe it all fit in there.
Happy Thanksgiving to all and may you have a very grateful Holiday Season