I didn't go out of my way to find these treasures. It wasn't MY fault Tara's horrid neighbors had to go and have a garage sale. I could have spent an additional 10.00 but I was already feeling bad for spending the 10 I did spend. Tara's neighbors have been less than kind to her and they didn't deserve my money. I did however, deserve their junk. Three decorating books, a mirror to go in Esther room (it will be Victorian Funk), and a cute wee little basket with a quilted top. Tara said that if I cut the handle off, that it would look like a quilted butt. I think she was in a bad mood because I gave money to her neighbors. I do thank her greatly though- since she lent me the money I needed for these finds.
I finally made a new kitchen mat. I am entirely pleased with this one. It is full of errors, the back is HORRID, and it is a bit scrumpled and wavy, but I love it. I am a notorious copier and this mat is no different. Someone made some nifty strip purses like this and I thought it would be adorable as a mat. I again forgot where I saw it. I have decided to make myself a special file for all those projects I want to copy...that way I can give due credit. I think it turned out cute, and it fits my personality well- much better than the last one. It shall find a new home at the foot of Esther's bed.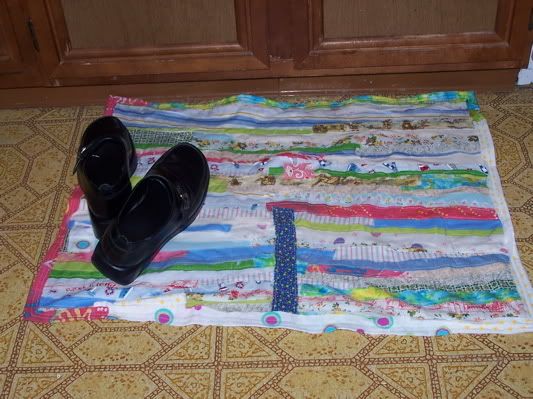 And just for fun, here is the project I made for TeenMOPS to do tonight. As you know, I am not all that crafty, and someow I was put in charge of this craft. It's a nifty clip board, turned into a frame. I thought it was young and hip. I just wish I was a better scrapbooker...But it will do. It will be used as an example and then relinquished to the uttermost corner of my house somewhere- maybe behind a door...