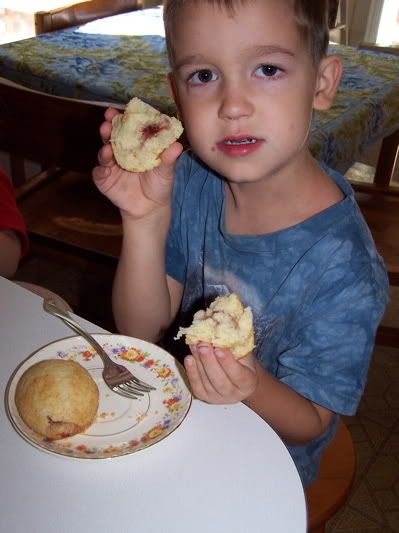 My kids are absolutely in love with muffins and being that Fall has decided to disappear and be replaced by winter- it was time to turn on my oven.
We made one of our favorite muffins, so easy to make, and such a kid pleaser!
They are called Surprise muffins, because hidden in the center is a yummy dollop of homemade jam.
To make these, take any basic muffin recipe, fill the tin about 1/4 full and then put about 1tsp of jam (or as Esther says..."jelly jam") then top with some more muffin mix so that the jam is covered. Bake until done.
Warning: The jam in the center is HOT! Ask me how I know.
Here is the basic recipe I used.
2 Cups of flour
3tsp baking powder
1/2 tsp salt
3/4 cups sugar
1 egg
1 cup of milk
1/4 cup of oil
Mix well and bake in 350 degree oven.
Make sure to let me know if you make these for your family!