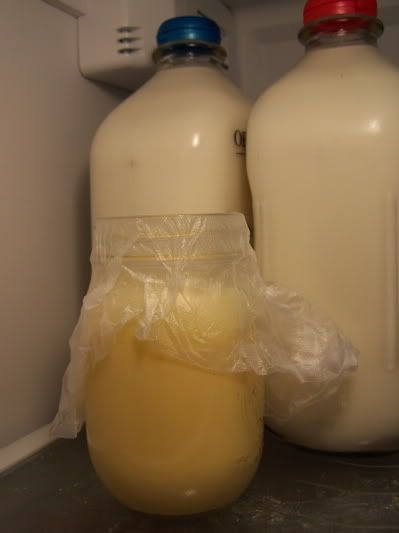 And ummmm, yes, actually, this IS my third post today. I will make up for it by skipping a week. How could I not show off this creation? What is it? Glad you asked. It's mayonnaise. Homemade Mayonnaise. helman's is better. I didn't have Helman's. This works. Besides, it's homemade!
INGREDIENTS:
2 egg yolks
3/4 teaspoon salt
1/2 teaspoon powdered mustard
1/8 teaspoon sugar
Pinch cayenne pepper
4 to 5 teaspoons lemon juice or white vinegar
1-1/2 cups olive or other salad oil
4 teaspoons hot water
Mix up the egg yolks and seasonings until quite thick. Add in the oil a drip at a time and 1/4 a cup at a time, alternating with the hot water and lemon juice. This will take you forever to make, and it won't taste very good. But it will work. And you will be very proud of yourself, and you will even feel a bit Caroline Ingalls-ish...because she would have made her own mayonnaise...no store bought Helman's goodness for her!
Oh, and the bread turned out wonderfully. We will be having tuna melt sandwiches tonight- a family favorite. Served on homemade bread and with homemade mayonnaise. Good for me.
Wow, I think I win the award for "Most Sentence Fragments Used In One Post". I accept with as much dignity as possible.