Well, since I am having a day of illness, and because I am bored out of my brains, I decided to go ahead and post my living room pictures today. My pictures are blurry, I am not sure why my camera is taking blurry pictures now days, but alas, i can't get it to take a crisp shot for anything. This first picture is what you see when you enter the front door. See my homemade "wallpaper"? I wanted that vintage look without the mess of papering it. frankly, after working on this for over 6 months and STILL not being done; I wish I had just found some nice paper...or painted a solid color.
Here is a picture from the opposite corner of the room.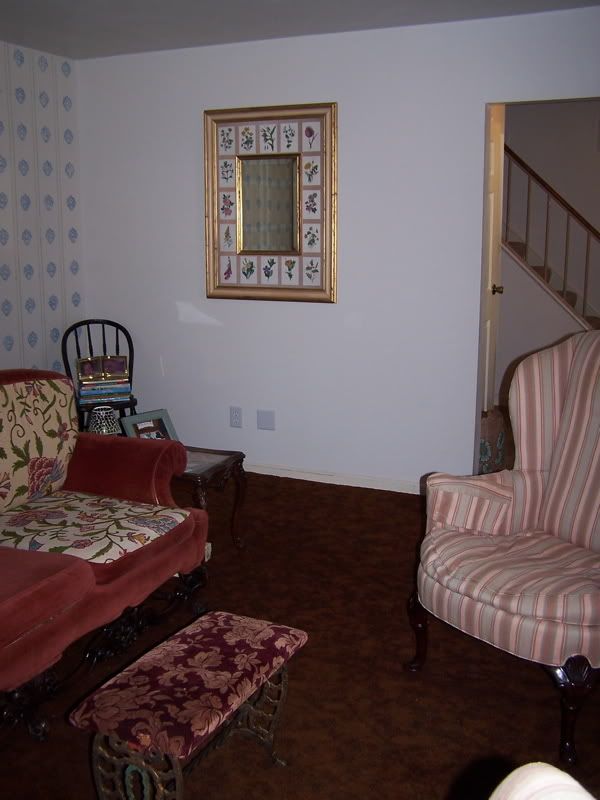 And one that centers on the seating area. I am so bad at furniture placement. My husband (Dustan) thinks the couch pulled away from tha wall looks horrendous, but i think it makes the room feel more cozy. It is a HUGE room and I just don't know how to arrange the furniture. I am open to any and all ideas. I am also open to someone telling me what to do about the windows. I know they look bad. What I WANT to do is hang shutters on the lower half and curtains (maybe gingham) on the upper half.
No need to mention the ugly carpet. It is the bane of my exsitence. Ugg...uggg.ugggggllllyyyy. Why would someone have chosen such an ugly color? It shows every piece of lint and is hideous to boot. Yuck. When I get rich, it will be the first thing to go. goodbye barfy carpet...hello hickory hardwood floors! can someone tell me how to get rich?