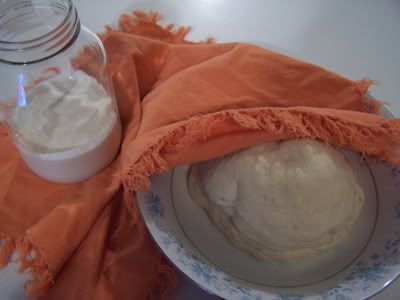 Ahem. Nope. Not a dog. He is silent, and growing, and we can kill him for food. His name is yeastie and he lives in a jar. Technically, he is not a very good pet, but my children are loving to watch him grow and bubble. Yeastie is really a sour dough starter but my children have deemed him the new pet. He is a boy they say, because we already have a girl. Yesterday they sat at the kitchen counter for an hour, just watching yeastie bubble and froth away. In my humble opinion, every family needs a yeastie pet...One hour!!! One full hour of silence and peace. Today, a bit of yeastie is being made up into a sourdough bread for dinner. I got the directions for making both yeastie AND the bread from
this site
. Whatever you do, please read the FAQ's. They cracked me up, and what mother doesn't need a laugh here and there? Oh, and just in case he doesn't make it clear enough- the sour dough topic is CLOSED for discussion. I think that Mr. Ross would understand the frustration of this conversation quite completely
Weston: can I have a cookie?
Mommy: No.
Weston: Can I PLEASE have a cookie?
Mommy: No, you can have a carrot stick.
Weston: I don't like carrot sticks. I like cookies. Can I PLEASE HAVE A COOKIE.
Mommy: I said NO!
Weston: But I will DIE if I can't have a cookie. Do you want me to die because I starve to death?
Mommy: I am not going to discuss this again. We are not having a cookie. If you ask me again, you will spend some time away from me...in your room.
Weston: Mommy?
Mommy: WHAT?
Weston: I am not going to ask for a cookie. I was wondering if I could have a round thing with chocolate chips in it?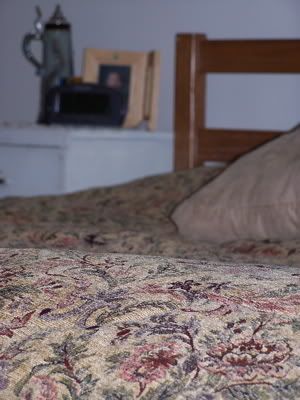 And because I am so excited about the awesome deaal I snagged on Amazon thanks to
Want Not
, here is a peek at my new bedspread. it is warm and luxurious. The sheets are soft and amazing...I can't believe I paid under 50.00 for sheets, bedspread, pillow cases, pillow shams, and bed ruffle all for a KING sized bed. Unbelieveable!
Because I can't show a picture of my my without telling a bit of history: My bed is actually two twin sized beds put together. First they were my father's and his brother's. They were bunk beds, and I can sometimes imagine my daddy, up on the top bunk reading comic books under his pillow. I can imagine my uncle Duane kicking the top of the bottom bunk and daddy as a kid throwing stuff at his brother to make him stop.
It's easy to imagine, because I went through the same cycle with my own sister. The bed holds great memories for me. Renee and I would tuck a sheet under the top mattress so we would have a fort, or a cave. We would practice the Olympic sport of jumping from top to the bottom (because sometimes we had the bed put together in an "L" shape). We had fights on that bed, and told stories on that bed. We had lovely dreams, and sometimes nightmares..right on those same bunks that my father and his brother slept on.
My two boys have slept on that bed as well. They have their own memories. And I have memories of holding Weston tightly until he fell asleep. Of Marcus falling off the top and breaking his arm. Of piling on the pillows and reading my own children a pile of story books. Of creating the story of "mean Jim, the BAD pirate, and little Elizabeth, the child missionary" right on that bed.
I commandeered it recently, after we found a loft bed system for the boys. My own mattress had been in the floor for months and we were in desperate need of the bed- so we stuck them together and piled our mattress on top. On one side hangs a pink string- a leftover from Marcus 2nd birthday balloon. I leave it there, because it seems to belong to the bed. It's a reminder: This bed is for children. One day soon, we will get another bed, an "adult bed" and this set of bunk beds will be passed onto Marcus, and then onto my brother, when his children are born.
It's solid, It will last another 50 years, and I hope to one day tuck my own grandchildren, or perhaps my great nieces or nephews into bed and tell them that there are alligators under the bed, but if you feed them, they will be your friend. I can tell them the story of "Mean Jim" and we can laugh over all the funny dreams I once had on that very bed.
Family history is important, and it is too bad that it gets tossed so easily for things that are newer/better/more convenient. Some people would say, "It's just a thing". But heirlooms are more than things...they are treasures. And treasures should be cherished.